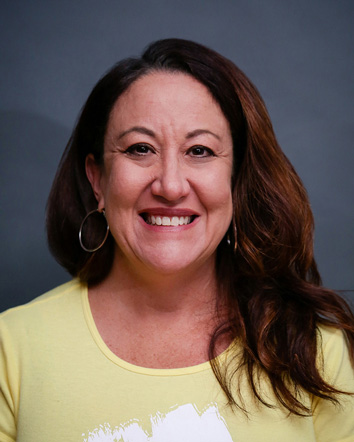 Lisa Bungarden
President/Founder
I have always had a passion for helping people. I began a career as a social worker, helping teens navigate their various hardships and lending a compassionate ear and empathetic heart. When Rachel was born, I joked that I reduced my client list to one. I spent 11 years as a stay at home mommy, which will forever be my favorite job. When Rachel passed away, I had a hole in my 
heart so great that I needed to find a positive way to channel my grief. Scatter Sunshine began as a way of honoring my daughter and keeping her spirit alive. I find strength in helping amazing kids explore Rachel's love of horses. 
I am currently employed as a school social worker and serve on my local school board. I will forever be a child advocate and feel blessed that I am able to work in special education. I love sunflowers, the ocean and being a baseball mom.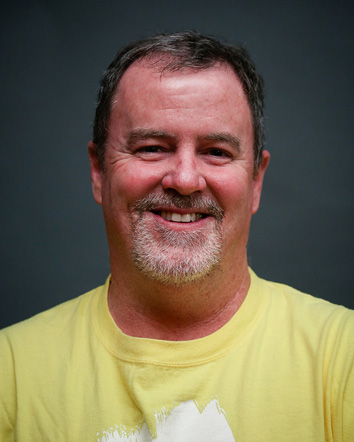 Richard Bungarden
Vice President/Founder
I proudly served as a US Air Force Officer for twenty-three years. I have traveled the world as a tanker pilot, and still enjoy traveling for pleasure. After retirement from active duty, I was fortunate to receive a position as an Air Force civilian employee working with the Air Force Auxiliary. My family is my number one priority and above everything else I love spending time with them. I have a passion for sports, especially the Los Angeles Dodgers. I also enjoy coaching youth sports, watching movies and all things flying. There is nothing greater than the bond between father and daughter. I always referred to Rachel as "Sunshine" because her smile lit up a room. When Rachel gained her wings, I knew that I had to find a way to continue her legacy and Scatter Sunshine is the perfect way to share her love of horseback riding with others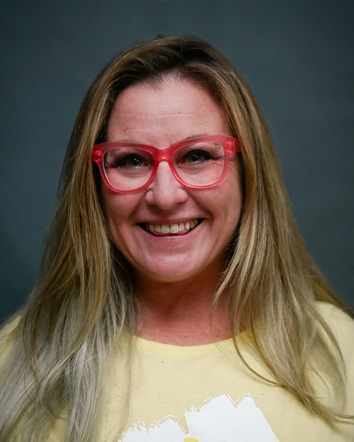 Marnie Wielage
Secretary/Founder
Nothing makes me more proud than being called "Auntie." A marketer by day, I love spending my spare time honoring Rachel's legacy through Scatter Sunshine. In addition to playing an active role in the Scatter Sunshine organization and serving on its board, I enjoy advancing our mission by giving 100% of the proceeds from hand-crafted "Antiqueies" necklaces — made from broken costume jewelry and old keys — to help Scatter Sunshine get extraordinary kids on horses.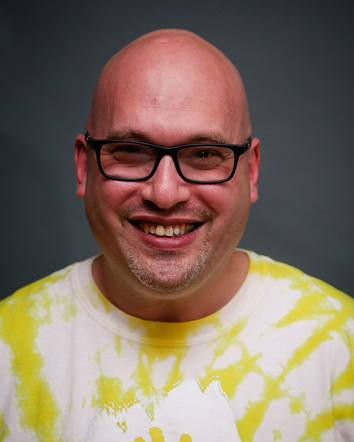 Glenn Roth
Treasurer/Founder
As a quality compliance officer in telecommunications, I'm all business from 9-5, but off the clock, I'm just one of the kids. My family and friends say the only thing bigger than my appetite is my heart. I love being out in the community, sharing Scatter Sunshine's mission – my dream is to one day become the "Sunshine" mascot to draw the most possible attention to the cause.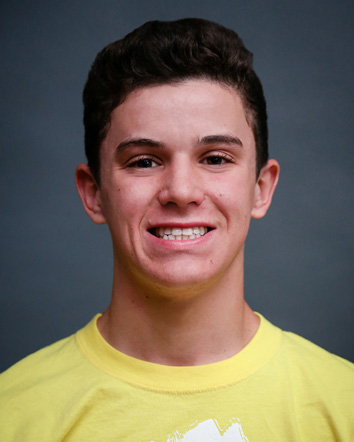 Adam Bungarden
Founder
I enjoy playing baseball and I am avid St. Louis Cardinals fan. I love exercise, healthy eating and I have completed several Spartan Races. I am always pushing myself to achieve higher goals. I volunteer at Enable Sports and Fitness, a program that provides athletic and fitness opportunities for youth and young adults that need additional support. I am member of Club Unify, a Special Olympics education and sports-based program that promotes respect through sports. My passion and involvement in programs that encourage youth with challenges stems from the special relationship I had with my sister. Rachel taught me to never give up, face my challenges head-on and always appreciate the little things in life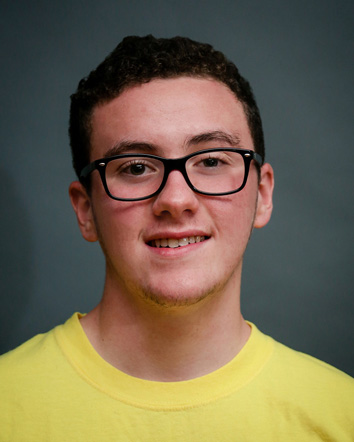 Drew Bungarden
Founder
I enjoy playing baseball and wrestling. I am a fan of an eclectic list of sports teams including the Philadelphia Phillies, The Los Angeles Chargers and the Las Vegas Golden Knights. I enjoy music of all genres. Rachel and I had a very special relationship. I was her baby brother — she nick-named me "Emma". We always liked to laugh together and her sense of humor was very similar to mine. Whenever we were together we joked and played. Today, I honor her memory by helping with Scatter Sunshine fundraisers and spreading laughter and joy.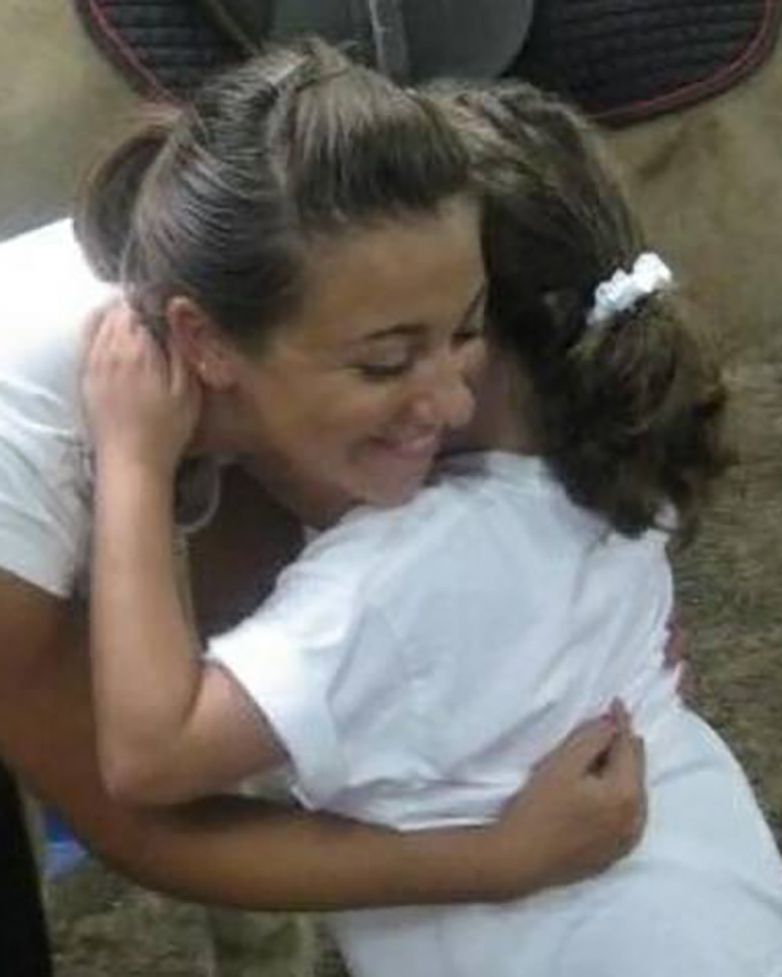 Kellie Antonellos
Community Relations
I am a pediatric critical care nurse. I became a nurse because of my passion to help others. This passion to serve others was instilled in me when I met Rachel at Riding High Farm when I was a young teenager. For four years I was blessed to have spent every Saturday morning learning from Rachel. Rachel taught me to be patient, be determined, smile, and most importantly jump in rain puddles! Scatter Sunshine has been an awesome way to share Rachel's love for helping others and share her love of horses. In my free time I love spending time with my horse Bam Bam and going to the beach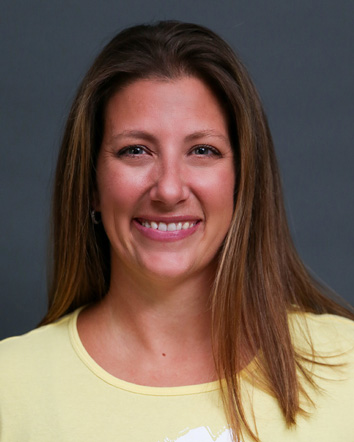 Dana Jacurak
Community Relations
I have always had a passion for working with special needs children. My love and desire to help children acquire the skills they need to have a successful life began at a young age for me. I have worked for Burlington County Special Services School District for 20 years. Throughout those years no-one stole my heart the way Rachel did. She quickly became my student, my niece and my best friend.  I continue to honor her characteristics, personality and smile by sharing stories with my two sons and taking part in Scatter Sunshine fundraisers. Aside from sharing memories of my favorite little girl, I love turtles, the beach and most of all my family.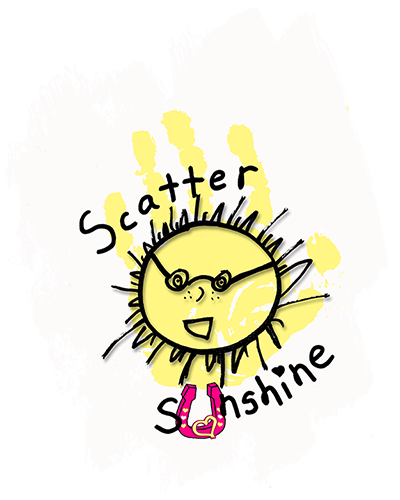 The logo for Scatter Sunshine was created with love. Rachel's brother, Drew (6 at the time) illustrated the Sunshine. He made sure to carefully include her glasses and freckles across her nose. Rachel's brother, Adam (9 at the time) wrote the words, "Scatter Sunshine." The "U" in sunshine is a horseshoe, representing Rachel's love of horses and the mission of the Foundation in her honor–helping special kids ride horses. The handprint behind the sun is Rachel's ACTUAL handprint, just hours before she went to heaven. The white 'paint' is messy, just the way Rachel liked things. The yellow color is bright and cheerful the way Rachel always was!
"The Sweetest of Angels"
The sweetest of Angels … our Lord called above
One so… truly special… one desperately loved
The way Rachel smiled… and the way that she grinned
Would capture your heart… when her trust you could win
The time we all spent… were enriched… different ways
We learned more from her… with each passing day
Her color was purple … her passion the farm
She rode and showed proudly … her passion the farm
She loved all the "girl talk" … and adored all the fad
And her mother the Best Friend … a young girl could have
Her father her Hero … in so many ways
Her love for them both… had expanded each day
She shared weekend news… with her teachers each week
Limitations were there.. but she showed…no defeat
Her brothers were favored… and loved with all might
She'd boast … with excitement … about the previous night
Such friendliness shown … and to this you can bet
She has given pure love … to each person she met
So although we are saddened … and miss our dear friend
Heaven glows in her brightness… as our hearts seek to mend
So remember her smile… when you envision her face
Rachel rides in God's garden…with her magical grace
By: Mary Lou LoPresti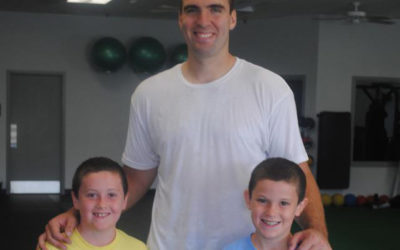 Adam and Drew had an incredible opportunity to participate in a training session with Joe Flacco.  Joe Flacco, Superbowl MVP 2013, works out a gym in Cherry Hill. He heard that Drew and Adam were big sports fans, and agreed to meet them.  They had a fabulous workout...
read more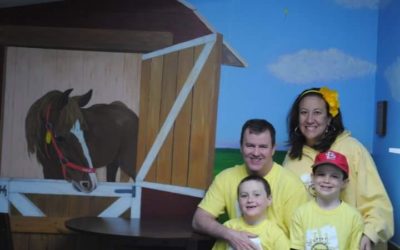 Rachel loved her weekend mornings at Riding High Farm.  The funds from Scatter Sunshine's first fundraiser was used to update the Family Room to make a comfortable place for families to relax while their children had their lessons.  An incredible mural was painted by...
read more
No Results Found
The page you requested could not be found. Try refining your search, or use the navigation above to locate the post.